Deutsche Bank wins a record 58 Cash Management and Trade Finance awards at The Asset's coveted Triple A Awards
Building on a long history of success in The Asset Triple A Awards, Deutsche Bank achieved new heights in 2021 – taking home a record 58 accolades for excellence.
Included in this record breaking performance are four prestigious Marquee Regional Awards, with Deutsche Bank winning titles for Best Regional Bank in APAC for Liquidity Management, Best Regional Bank in APAC for Structured Trade Finance, Best Service Provider in APAC for FinTech Partner and the Editor's Triple Star award for their GEM Connect solution.
The Asset Award's rigorous award evaluation process involves client feedback shared through the publication's Annual Treasury Review Survey, in-depth client interviews and intense awards pitches and puts the spotlight on our unique client solutions and advisory services, as enabled by our technology build, platform capabilities and our comprehensive understanding of the local markets.
This result recognises Deutsche Bank's efforts and achievements to meet client's evolving needs in key strategic areas such as ESG, New Economy and FinTech, Liquidity, Investment, Digitalisation, Trade Finance and lending, among others, while also celebrating the Bank's continued support in priority markets such as India, China and ASEAN.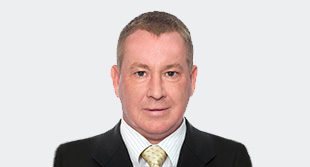 David Lynne, Deutsche Bank's Head of Fixed Income & Currencies, APAC, and Corporate Bank, APAC (pictured), said, "This has been a year of successes for Deutsche Bank's Corporate Bank in Asia-Pacific and our outstanding performance in The Asset awards this year is testament to this. Our determination to combine world-class service with world-beating innovation has required strong investment in building blocks such as people and technology. It is this combination that provides the solid foundations for continuing to serve our clients – seamlessly, exceptionally – in such trying circumstances and will help us to continue to gain market share in the years to come."
Deutsche Bank's wins at the Asset Awards 2021 include:
Regional Marquee Awards
Editors Triple Star Awards (GEM Connect)

Best Service Provider (FinTech Partner)
Best Service Provider (Best in Structured Trade Finance)
Best in Treasury & Working Capital (Best in Liquidity Management)

Best Bank Awards


Best in Treasury and Cash Management – South Asia
Best in Treasury and Working Capital for MNCs –Thailand, Philippines, Hong Kong
Best in Treasury and Working Capital for MNCs/LLCs – China, India
Best in Treasury and Working Capital for NBFIs – China, India
Best in Treasury and Working Capital for Structured Trade Finance – China
Best Service Provider for Cash Management – India
Best Service Provider Transaction Bank – India
Best Service Provider for FinTech Partner – India
Best Service Provider for Liquidity Management – South Korea
Best Service Provider for Risk Management – Singapore

Best Client Solution Awards


Best ESG Solution:


Iffco Tokio General Insurance Company, India
Olam International, Singapore

Best New Economy Solution:


Net Ease Global Pay Company, Hong Kong
Booking.com, Japan

Best Digital Solution:


Shanghai Pharmaceuticals, India
Mahindra Rural Housing Finance, India

Best In-country Payments and Collections Solution:


Clariant, China
Henkel, China
Noble Trading, Hong Kong
American Express Banking Corporation, India
Evonik India, India
Home Credit India Finance, India
Siemens Financial Services Private Limited, India
Xiaomi Technology India, India
Bunge, Malaysia
DKSH Malaysia, Malaysia
AMS Sensors, Philippines
Bernhard Schulte Shipmanagement, Singapore
United Health Group, Singapore
Helm, Thailand
Bharti Airtel Lanka, Sri Lanka
Carl Zeiss, Taiwan

Best Regional Liquidity and Investments Solution:

Best In-country Liquidity and Investments Solution:


Lanxess China, China
Thyssen Elevators, China
Trinseo, Hong Kong
Cargill, South Korea

Best Structured Trade Finance Solution:


CPI Ronghe Financial Leasing, China
CRCC Financial Leasing Corporation, China
Datang Financial Leasing Corporation, China

Best Trade Finance Solution:


Aditya Birla Finance, India
Cisco India, India
Hyundai Corporation, South Korea
Gulf Energy Development, Thailand

Best Hedging and Risk Solution: FX

Best Supply Chain Solution:


BASF, China
Larsen and Toubro, China

Client Leadership Awards – Treasurer of the Year (China)


Amanda Shi, ThyssenKrupp Elevator China
Sumit Sharma, Tata International