#ExpeditionFinance electric travels to COP26 in Glasgow
Who would travel by electric vehicle from Frankfurt to COP26 in Glasgow? Deutsche Bank's Jürgen Schmitt did just that. Here are some insights on this latter-day pilgrimage and the sustainability learning gathered along the way
Deutsche Bank's 'Discoverer' and leader of the Bank's #ExpeditionFinance initiative Jürgen Schmitt, together with freelance film director Sabine Streich have just returned from COP26 in Glasgow having completed the entire round trip in an electric vehicle (EV).
"This was a huge challenge," admits Schmitt and the hunt for the faster DC charge points elicited a certain camaraderie with other pioneering EV drivers along the way. He had to recharge around ten times, switching between charge points and with some power top-ups taking between 20 minutes and an hour each. With only 6,000 UK charging points compared with Germany's 26,000, even allowing for the fact that Germany is 1.5 times larger than the UK the British clearly have some catching up to do.
Schmitt, a former securities trader, and now a core member of the Bank's marketing team, set up what became the Bank's ExpeditionFinance project following its 150th anniversary celebrations in a largely locked down 2020. "This was the perfect time to look into the future of the financial world," he said at the time.1 He describes the initiative, which has attracted a huge following on social media as "a self-narrated, honest and authentic concept developed entirely in-house".
COP26 began on 1 November and has been an ideal opportunity to delve deeper into the role finance is playing in driving sustainable corporate behaviour.
Setting off on Monday 25 October from Frankfurt, Schmitt and Streich reached London 16 hours later, and from there went on to Cambridge (Day 2), Newcastle (Day 4), arriving in Glasgow on Day 8, the first day of the COP26 summit (1 November).
Their journey and pitstops form the basis of an engaging series of video clips and reflections as part of Schmitt's ongoing #ExpeditionFinance dialogue, all of which can be accessed through the business social media channel, LinkedIn here.2 The actual route map, complete with photo mementoes of each stop are uploaded onto social media site Padlet here. This article provides a summary of some of the highlights, each with the YouTube video link provided at the end.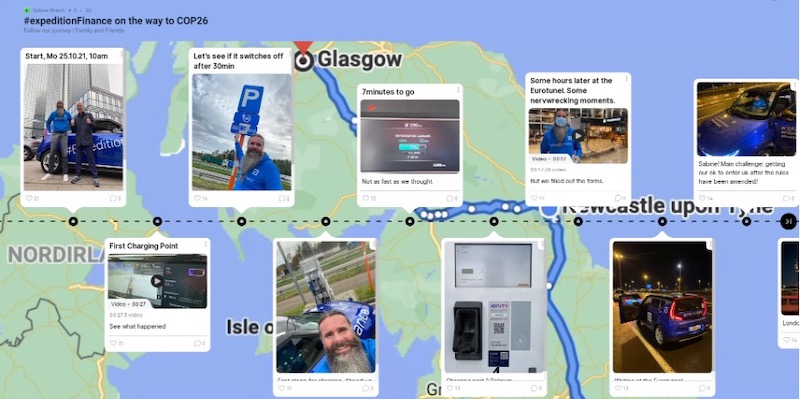 A snapshot of the COP26 #ExpeditionFinance journey
Highlights en route included visiting an urban regeneration site in Newcastle, interviewing the former President of the Maldives, catching up with Deutsche Bank CEO Christian Sewing, and visiting Grant Rudgley at the Cambridge Institute of for Sustainability Leadership (CISL) to hear more about why nature loss is a financial risk.
As an icebreaker, each video log guest was invited to take a gift from a green and yellow box, to reflect on it, and to write their wishes for tomorrow's world on the three-dimensional letter blocks of COP26 at the end of the interview.

Supporting climate-vulnerable countries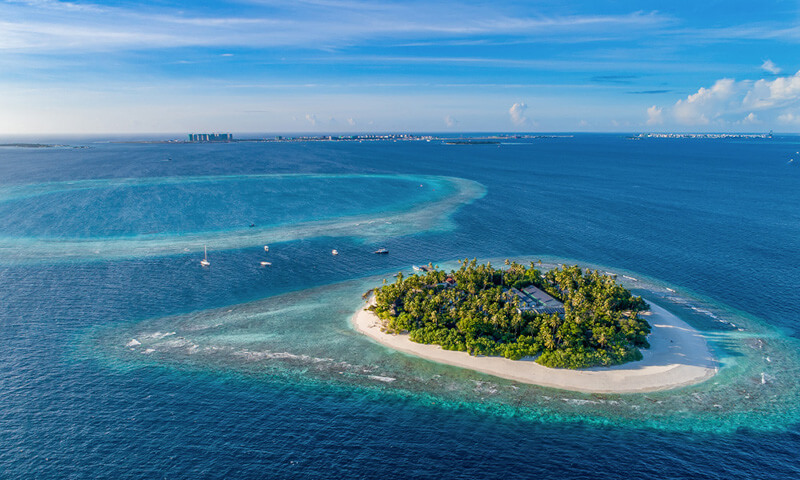 One of the Maldives islands in the Indian Ocean at one metre above sea level
His Excellency Mohamed Nasheed, former President of the Maldives began by pulling out multi-sided dice with ratios written on each of its faces. His thoughts? There are different ratios of survival, he reflected. "The winds are higher, the waves are more, the summers of longer and we have rampant coastal erosion," he said. "Our coral reefs are bleaching, we are losing our biodiversity, and rising sea water is contaminating our aquifers," he added.
He called for countries to help each other. "It's not just about saving the Maldives, it's not just about one country" he said. His Excellency was, however, encouraged that climate change had grown from being just a moral and environmental issue to become a finance and economic one. "This is when things start changing," he suggested.
More than 80% of the Maldives' 1,000 island-strong archipelago lies at less than one metre above sea level. A rise of more than a metre means3 the country will have disappeared. His wish inscribed on the green number six? "A climate agreement in six years," he concluded, but pointed out the window for getting this done is currently seven years.

Being part of the COP26 goal achievement solution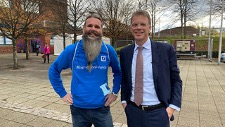 Taking the theme of financial engagement further, Schmitt decided that Glasgow was a good opportunity to hear from fellow attendee Deutsche Bank CEO Christian Sewing what it means for financial institutions.
Meeting just outside the convention centre and within sight of the trusty EV that got him to Scotland, Schmitt asked Sewing what the financial industry's main duty is to achieve the COP26 goals "properly" while inviting him to take a gift from the box. Drawing a toy racing car, the CEO advocated that motor racing should go all-electric.
"We need to provide the balance sheet to our clients, and we need clear transformation plans from them"

"We, as financial institutions can be part of the solution, just as we have been part of the solution during the pandemic," said Sewing. "We need to provide the balance sheet to our clients, and we need clear transformation plans from them. If we connect client centricity with sustainability, we have a big chance to be a big supporter of that transformation."
Inscribing "finally, traction" on the giant green C, Sewing said it reflected the fact that "we have done a lot of discussion" and now was the time for a clear framework, clear roadmaps and commitments from all participants – politicians, regulators and the economies – to move from words to action.
From beer to urban regeneration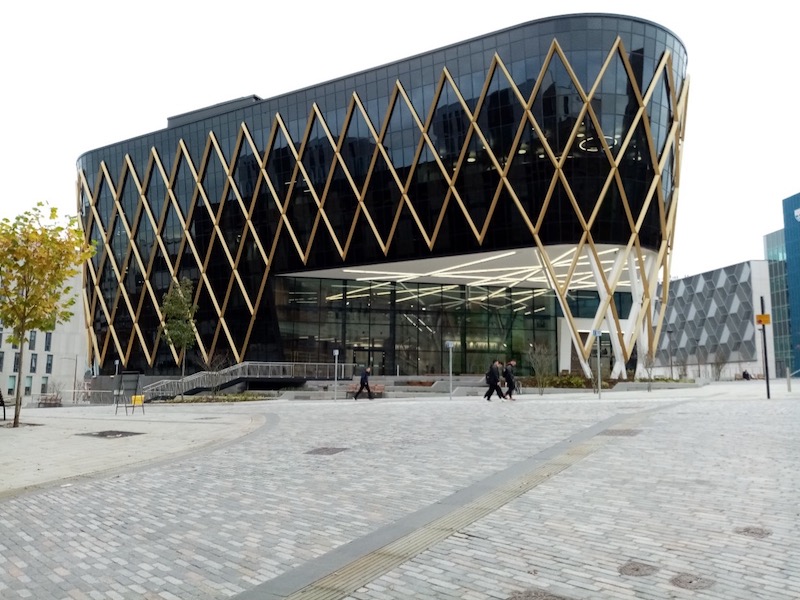 Newcastle Helix. Source: Simon Cotterill (flickr, public domain)
One of the stops en route took the team into Newcastle, the university city that was formerly a shipbuilding and manufacturing hub during the 19th century's CO2 emitting Industrial Revolution and is now a centre of business, arts and sciences. #ExpeditionFinance caught up with Deutsche Bank colleague Steve Corry from the Technology team, who was acting as an impromptu tour guide to Newcastle Helix, the 24-hour "testbed and collaborative ecosystem for public and private bodies that's unlike anything else in the UK" to quote its website description.
Corry introduced Schmitt to Tom Bramald, its Marketing Manager. "A university, a local council and large corporate partners are working together to redevelop a site that has been a coal mine and a very large brewery, now being redeveloped as an urban innovation and living space," explained Bramald. He added that when a brewery, the site had created a barrier within the city, and the development was taking particular care to ensure this was not repeated. "We want people to move through the site and take their time in it," he said.
Pointing to a gold-coloured building, Bramald indicated this was Newcastle Helix's district energy centre. "We produce our own energy heating and cooling and that is connected to all the buildings on the site so it is centralised," he said, adding that the enterprise anticipated this could save 40,000 tons of carbon over a 30-year period. Wishes inscribed onto COP26's giant green C and 6 from Corry and Bramald were to "Build a better future" and "start doing some real actions".

Cost of lost natural resources
Another stop took Schmitt to Cambridge, home to the CISL where he met with Grant Rudgley, an expert in Sustainable Finance. By way of background CISL is the home of the Banking Environment Initiative (BEI).3
As Rudgley pulled from the gift box a glass sphere that displayed the night sky, he said we all need to "aim for the stars". "Why is nature loss a financial risk?" Schmitt asked him. Rudgley responded that "studies have shown that more than 50% of our global GDP is moderately or highly dependent on the services nature provides – fresh water, clean air, healthy soils and so if those services degrade and we lose nature we are putting our economy at very significant risk."
Rudgley's wish was that banks and investment managers would download and read the new Handbook for Nature-related Financial Risks, just published on the CISL website. His motivation for publishing this was to highlight the opportunity to factor the risk of lost nature into financial decisions, so "then we can better value nature and our economy can evolve as a result."

Top takeaways from the trip
flow asked Schmitt afterward what he would remember most about the experience. Reflecting on the conference itself, the messages were:
We need to go from think-tank to action-tank
Time is running short for action (and we are already very late)
There has been a lot of discussion, but it is time to walk the talk
Pledges will only work if you take people with you
"We need traction" to quote Deutsche Bank CEO Christian Sewing