Knorr-Bremse and Roche win three SCF Forum Global Supply Chain Finance Awards 2020
November 2020
Global market leader in "braking systems for rail and commercial vehicles shaping the future of mobility", Knorr-Bremse (headquartered in Munich, Germany), and Switzerland-based global pharmaceutical manufacturer Roche scooped three awards at the SCF Forum Awards virtual ceremony on 19 November 2020
The SCF Forum and Awards brings together the world's treasurers, procurement directors, banks, technology vendors and academics to learn from each other and set out the future of Supply Chain Finance. Now in its eighth year, SCF Forum has gathered significant traction as a cross-industry supply chain finance event with more than 400 delegates.
The awards were in recognition of "great case studies that can serve as an example to others of how great supply chain finance (SCF) programmes contribute to business success".
Streamlining both receivables and payables to improve liquidity, lower funding prices and secure supply chains – particularly the smaller suppliers struggling during Covid-19 – is a top priority for corporate treasurers, explained Pietro Solazzo, Corporate Finance and Treasury Manager at Knorr Bremse (responsible for its worldwide supply chain finance and factoring). Martin Schlageter, Group Treasurer at Roche explained how the two companies had worked together for 12 months to develop a purchase order financing facility with Deutsche Bank and Citi using the Trade Information Network (TIN) platform.
Solazzo spoke having a vision for the end-to-end supply chain that would remove the silos that divide it into procurement, treasury, etc.
Knorr-Bremse was one of the first companies worldwide to successfully implement a payables finance (in other words reverse factoring) programme in 2007 with its global and regional suppliers. Today, 13 years on, all of the company's global strategic and important suppliers are fully connected to the company's 40 entities; and a financing volume of several hundred million dollars is handled via the programme. Solazzo said that he wants to develop reporting standards to handle various platforms, and have the status on request.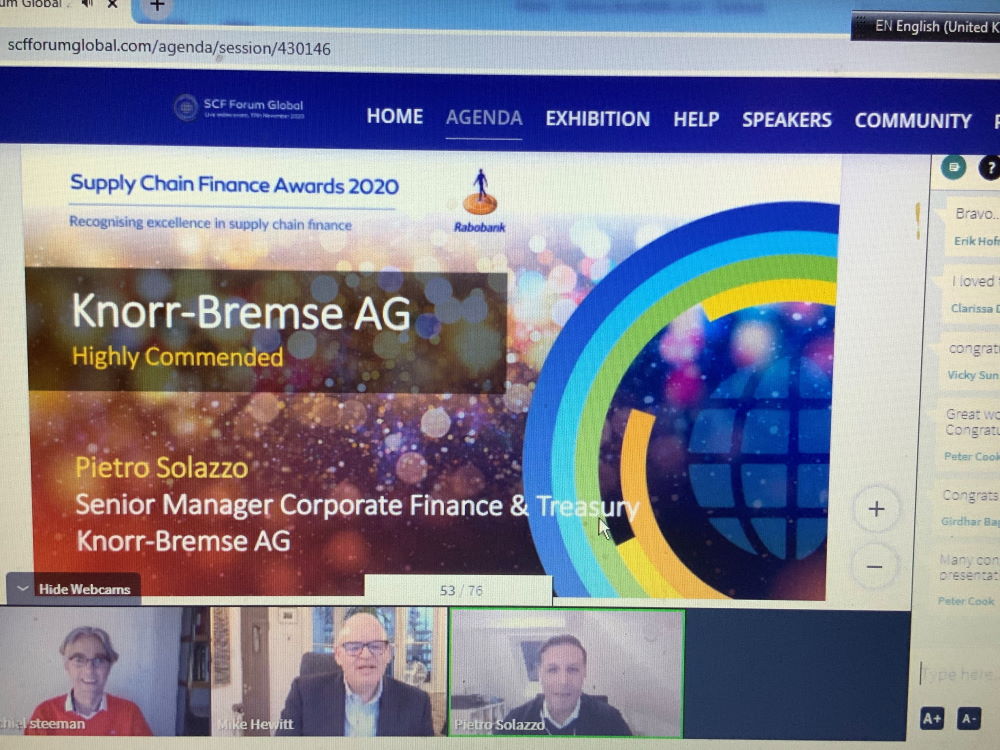 Knorr-Bremse's Pietro Solazzo accepts his award at the virtual ceremony
It was this, together with a joint SCF project with Roche that resulted in the following Supply Chain Finance Awards 2020:
Transport and Logistics: Knorr-Bremse AG (Highly Commended)
Knorr-Bremse & Roche (Highly Commended)Leader of the Year 2020: Pietro Solazzo, Corporate Finance and Treasury Manager, Knorr Bremse


"Thank you so much to all my colleagues who have worked so hard with me every day," said Solazzo, adding a special thank you to Deutsche Bank for managing the client experience on the Bank's platform.
Schlageter added, "It is collective effort getting supply chain finance to where it is today. I am so pleased to receive this award!"
Commenting on the wins, Deutsche Bank's EMEA Head of Supply Chain Finance – Payables Anil Walia said, "I congratulate Pietro Solazzo and Martin Schlageter on receiving these awards. The most satisfying outcome to a Bank is that the quality of its solutions and services is acknowledged by its customers, and by the industry at large. Innovation and a close proximity to our clients are the driving principles of the Supply Chain Finance Business at Deutsche Bank. We continuously strive to serve our clients' needs with effective solutions."
Cover image: ©Knorr-Bremse AG
The SCF Forum and Awards took place virtually on 19 November 2020