New Deutsche Bank loan to Halcyon Agri helps drive sustainability standards
July 2020
Deutsche Bank's Corporate Bank has provided a US$25m sustainability-linked loan facility with a three-year tenor, and an accordion feature to upsize the facility to US$75m, to Corrie MacColl, a subsidiary of Singapore-based Halcyon Agri Corporation (Halcyon). The funding is to finance the company's capex investments for its rubber plantations in Cameroon and Malaysia
The proceeds of the loan will be used for the maintenance of Halcyon's rubber plantations while promoting its Cameroon Outgrower Programme, which aims to provide additional food security and boost the income of 13,000 local smallholder farmers. The borrower group will be required to comply with the mutually agreed sustainability framework ("the framework") developed by Environmental Resources Management (Singapore) Pte Ltd (ERM), throughout the life of the loan. Compliance will be assessed and/or verified by ERM, appointed by Deutsche Bank AG, Singapore Branch as consultant on the framework.
ERM will be responsible for reviewing the key performance indicators of the loan, which will complement and enhance the borrowers' existing sustainability strategy and objectives, and is a further step for Halcyon to drive ESG standards as the market leader in sustainability. ERM has also set the sustainability performance targets embedded in the framework of the financing facility. While ESG conditions attached to loan rates are not unusual in corporate lending facilities, it is the comprehensive nature of the key performance indicators (KPIs) that will set a new standard for the rubber industry, making this commercial loan unique.
"We are committed to driving positive change through our efforts in sustainable finance, and are proud to pioneer sustainability-linked loans such as these in the market"


David Lynne, APAC Head of Corporate Bank at Deutsche Bank, said, "We are committed to driving positive change through our efforts in sustainable finance, and are proud to pioneer sustainability-linked loans such as these in the market". He continued, "The finance industry can play a critical role in helping companies reach their sustainability objectives, by helping align incentives to ensure that more sustainable business practices also make good financial sense. It is gratifying to work with partners like Halcyon on this type of project, which evaluates a broader set of more environmentally conscious metrics in defining successful business."
In addition, Jeremy Loh, Chief Financial Officer of Halcyon Agri Corporation, commented, "We are delighted to have chosen Deutsche Bank for this one-of-a-kind loan structure. It was important to us to ensure that we continue to support our clients in a sustainable way, supporting our overall corporate social responsibility strategy and in accordance with developing standards for sustainable financing in the rubber industry."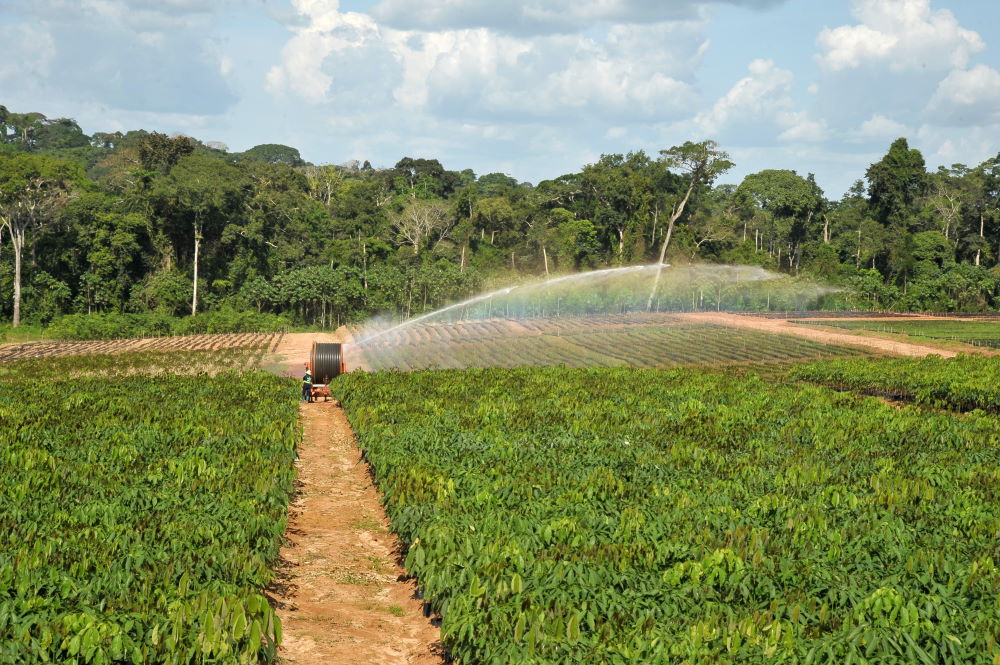 Rubber tree nursery in Halcyon's Sudcam plantation, Cameroon
Halcyon is one of the world's leading rubber franchises, with an integrated global network spanning plantations, processing, and distribution of quality rubber. Being at the forefront of sustainability, Halcyon developed its HeveaPRO rubber processing standards in 2014 and released their Sustainable Natural Rubber Supply Chain Policy in 2018, which includes a No Deforestation commitment – a first for the industry. In 2019, the Group became a signatory of the United Nations Global Compact and was recognised as the second most transparent rubber company in an award from the Zoological Society of London's SPOTT analysis. In the same year, Halcyon launched BOUNCE, the world's first rubber sustainability movement anchored by the United Nations Sustainable Development Goals. Halcyon is a founding member of the Global Platform for Sustainable Natural Rubber.
Figure 1: Origins and destinations of Halcyon rubber
In the Halcyon Corporate Report 2019, the company states that it produces 11% of the world's total supplies of rubber. It adds, "As the world's leading rubber franchise, we have full control over the entire value chain: how rubber is grown, sourced, produced and distributed. Halcyon's factories are located in most rubber-producer countries, and we are the owner of the world's largest commercial plantations. Combined with the ability to leverage our extensive network of warehouses, terminals, laboratories and sales points across the world, this allows us to distribute a wide range of natural rubber grades, latex and specialty rubber for the tyre and non-tyre industries." Halcyon's top three delivery destinations are China, EMEA and USA. Our sales are mainly to the tyre industry."
The company has pointed out that while natural rubber is more in demand than ever – global consumption has risen from 10 million tonnes in 2010 to 14 million tonnes today it notes "there is a "looming crisis" in the rubber industry as its supply steadily becomes less sustainable and its market economy remains trapped in a boom and bust cycle. A move away from the current speculation driven futures-market-based pricing model would ensure a livelihood for the thousands of smallholder farmers who produce 84% of the world's rubber; while ensuring the world retains access to the ever-increasing tonnage of rubber it demands per year."
Deals such as this one to drive sustainable behaviour throughout the industry are therefore very important to secure ongoing supplies in an uncertain global economic climate.