Deutsche Bank's export and natural resources finance teams win seven industry awards
A new railway line in Ghana, a project eliminating gas flaring in Iraq, and ESG-aligned reserve-based lending to a Norwegian oil producer won a range of best deal 2021 awards
Each year trade finance media houses GTR and TXF hold their annual Leaders in Trade, Best Deals and TXF Commodity Finance Perfect 10 awards, and 2022 was a particularly successful year for Deutsche Bank's Structured Trade and Export Finance (STEF) and Natural Resources Finance teams winning seven awards all in. Hundreds of submissions were made by market participants all around the world in respect of 2021 activity by the January 2022 deadlines with an assessment process of around four months.
In addition, Project Finance International (PFI) Yearbook 2022 celebrated 40 of the best project finance deals in major sectors such as transport, power, oil and gas, infrastructure and mining. For 2021, Deutsche Bank's Basrah Gas Company (also picked out by GTR and TXF) won the PFI Award for Middle East Gas Deal of the Year.
GTR Best Deals and Leader in Trade 2022
The first set of awards came from GTR at their annual GTR Awards evening held on 4 May at the Landmark Hotel in London, UK.
Basrah Gas Company – a first ever pre-export finance transaction in Iraq supporting the country's strategy to eliminate all natural gas flaring by 2030 bringing significant economic and environmental improvements to the region. This was US$350m, for five years with five other banks participating.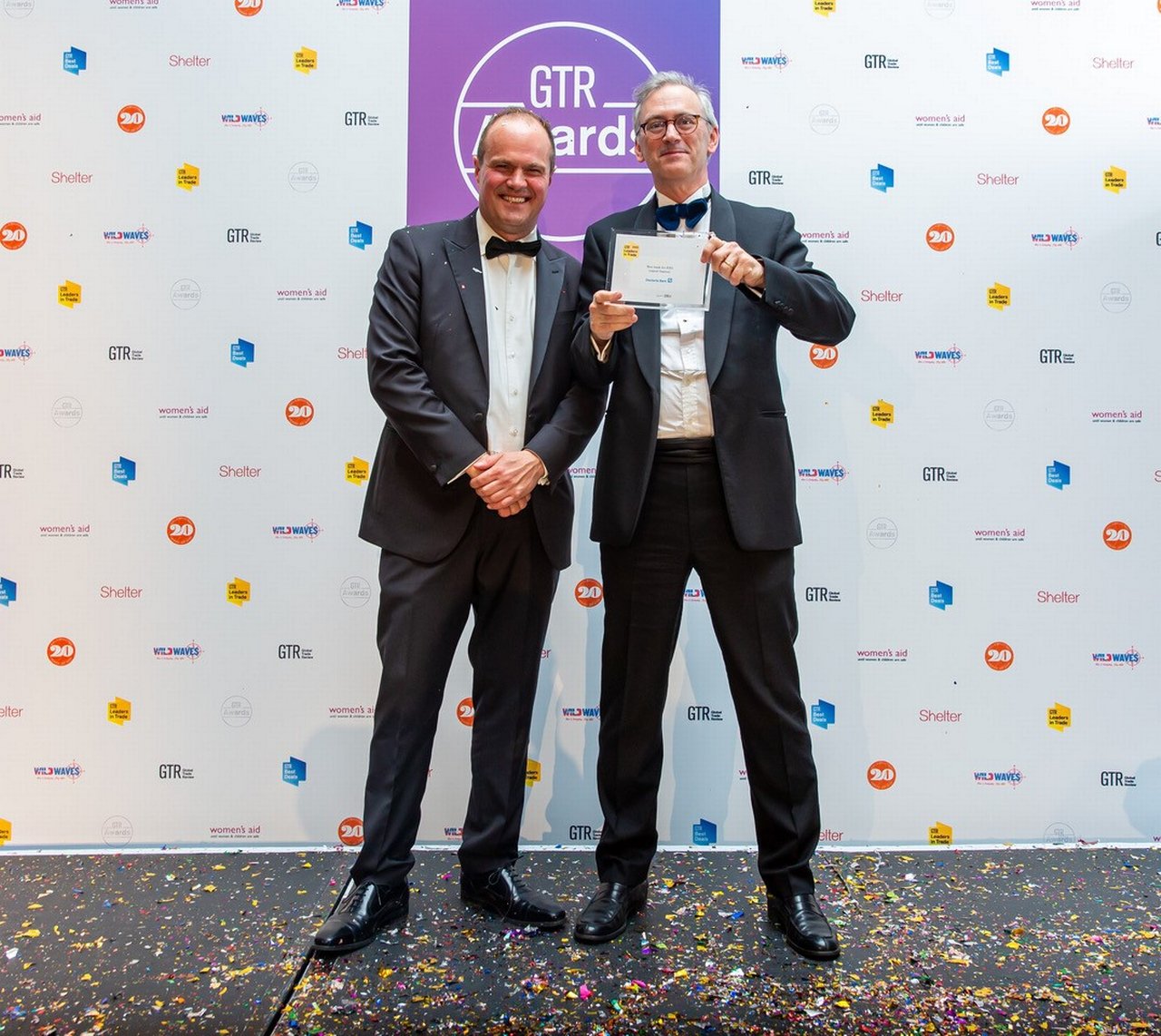 Ghana's Ministry of Finance – EUR600m export finance and tied commercial loan package to rehabilitate almost 100km of railway track in the country – the first ever in Africa to meet the Green Loan Principles, Social Loan Principles and sustainability Bonds Guidelines. The deal, a mix of an export credit agency (ECA) and a tied commercial loan involved a close partnership with Investec Bank demonstrating world-class teamwork. ECAs were Sweden's EKN and Africa's ECIC.
Leader in Trade: Best Bank for ESG (Export finance). Collected by Ben Dobson (pictured, right) from the STEF team, this award recognised Deutsche Bank's track record here – that has included the provision of renewable energy to thousands of homes in Australia and the Dominican Republic, supporting tangible social improvements in Ghana with transformational export credit agency backed financing. "At Deutsche Bank we are fully committed to deploy resources and balance sheet to support the transition which will have a positive impact on societies, and I am delighted this has been recognised with this award," says Werner Schmidt, Deutsche Bank's Global Head of Structured Trade & Export Finance.
TXF Commodity Finance Perfect 10
At the TXF Global Commodity Finance conference in Amsterdam (with 330 delegates just so glad to be reconvening in person after two years of virtual events), Deutsche Bank won three of the "Perfect 10" selected deals – judged from a mix of TagMyDeals (the TXF deal database at www.tagmydeals.com) votes and TXF editorial adjudication. These were:
Basrah Gas Company. This deal was clearly a stand-out transaction having already won a GTR award (see above). As TXF Editor in Chief Jonathan Bell puts it, "The spread of a structured commodity finance structure to an emerging economy such as Iraq is heartwarming to see – and given the importance here in reducing natural gas flaring, the transaction is a worthy winner."
Noreco. This US$1.1bn reserve-based lending facility (RBL) with a seven-year term from Deutsche Bank, together with BNP Paribas, ING Bank, Lloyds Bank and Natixis – jointly underwriting the refinancing of this dynamic independent Norwegian producer's 31 July 2019 US$900m transaction was celebrated on grounds of its pivotal role in energy transition. TXF's Bell notes, "certain hydrocarbon upstream activity is going to be a necessity for a good part of the energy transition and somewhat beyond". He makes the point that during these transition year oil and gas producers need to move towards net-zero carbon and ESG considerations are brought to the fore in all aspects of operation.
Traxys Sarl. This was a multicurrency syndicated US$1.33bn revolving credit facility with a group of 26 banks, arranged by Deutsche Bank, Rabobank, ING Bank, Société Générale and Natixis, and signed on 4 May 2021. Headquartered in Luxemburg, Traxys Sarl is a physical commodity trader and merchant in metals and natural resources with a turnover of more than US$5bn. According to Bell, this deal received "considerable votes on tagmydeals.com".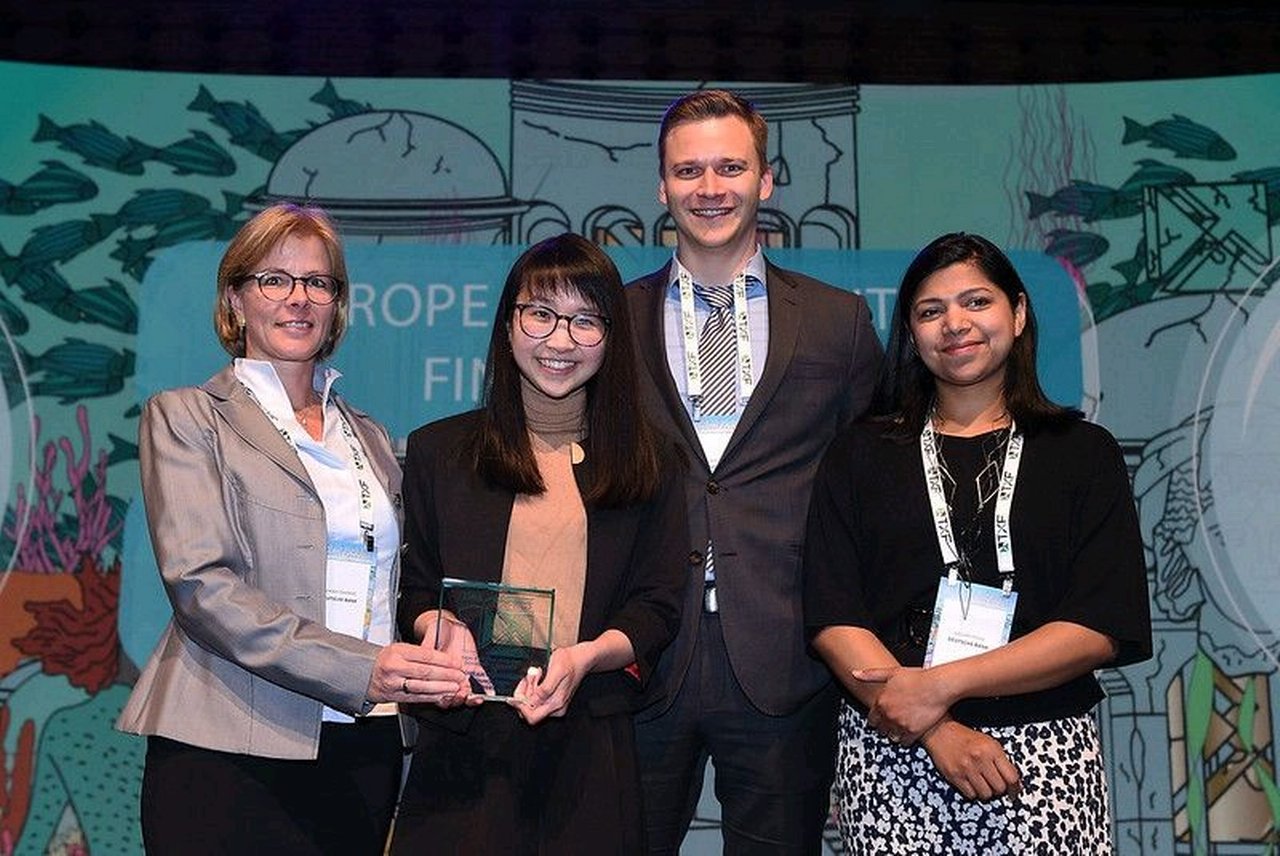 Commenting on the TXF Perfect 10 competition wins, Sandra Primiero, Global Head of Natural Resources Finance at Deutsche Bank (pictured left) said, "Very well done, everyone! It was wonderful to be back at an in-person event again and great to see good structuring being celebrated."