My name is Jürgen – join me on #ExpeditionFinance
Why me? Quite simply, it was my idea – and I can't wait to explore the future of the financial industry.
My previous job at Deutsche Bank was exciting: I was a securities trader for 22 years. Shortly after completing my apprenticeship at the bank in 1996 someone asked me if I could see myself working on the floor of the Frankfurt Stock Exchange. Who wouldn't have said yes to that? And it didn't disappoint: until 2018 I had a job that was fast-paced and stimulating but also time-consuming. Among other things I developed my skills and became a derivatives specialist while I was in Chicago.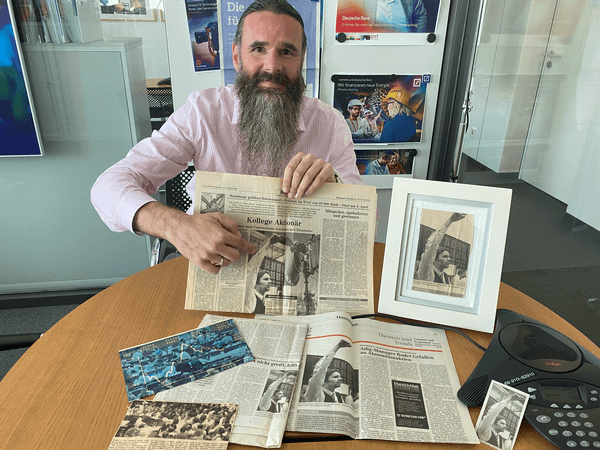 And then, from one day to the next, it was over: the department was dissolved and I was told to find myself a new position. All of a sudden I had a lot of time on my hands. For my family and the children and the garden.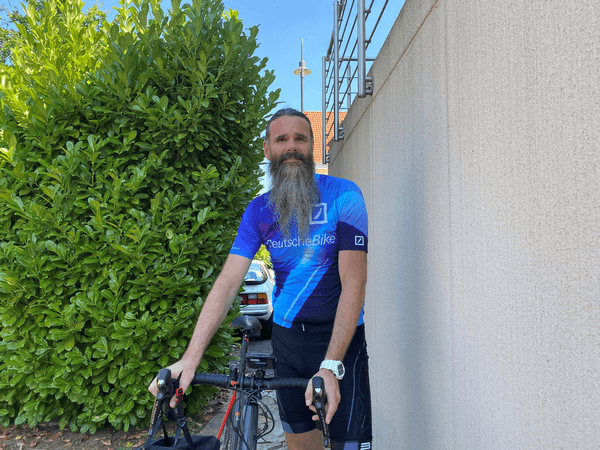 I asked myself: if my old job has disappeared, then what else can Deutsche Bank offer? And where would I like to work? Which activities even have a future? And wouldn't it be exciting to explore these trends and perhaps promote new ideas myself?
And that's where the idea came from for #Expedition150 – which is now called #ExpeditionFinance. Deutsche Bank celebrated its 150th anniversary in 2020 – it was the perfect time to look into the future of the financial world. What role will it play going forward? What is important to customers, what will they need? Which new products and services could emerge – and what is already being developed and tested within the bank? Which trends could become established and how are they connected? And what impact will the current crisis have?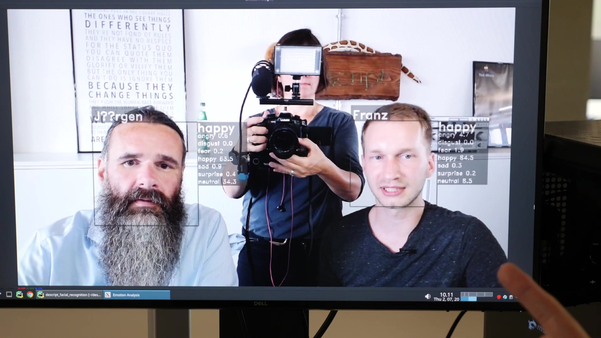 I approached our Communications department with an initial concept that sounded unusual. Christian Rummel, Head of Brand Communications in Germany, was convinced straight away: "This is human, authentic and highly relevant. And it's a great way to tell stories which demonstrate our sector has more to offer than people think."
Over time this led to what is now #ExpeditionFinance: a self-narrated, honest and authentic concept developed entirely in-house. Fronted by the person who originally asked the questions – and can now also obtain the answers. Creativity and dedication that are rewarded. Ideas that are being taken seriously and also implemented. This was and is a major source of inspiration for me.
The new assignment brought a steep learning curve for me from the first day. Some colleagues say: "Jürgen, you're the perfect example of the transformation currently underway at the bank." I think it's more a case that I'm also discovering things about myself that I wouldn't have otherwise imagined. And that I'm learning how it is to take a leap into the unknown. Including stage fright: for example on the day before we starting shooting I was all keyed up, but standing as a novice in front of the camera is no-one's idea of fun.
"Be yourself" – was the camerawoman's advice. I couldn't have done it any other way.
A lot has happened in the meantime: in August 2020 we posted the first video and every week since then we have published one new video on this website. And a lot has changed for me as well: I've found a new home in the Corporate Bank. Courage, trust and persistence have paid off. #ExpeditionFinance is expanding, offering new opportunities and additional formats such as the kurz nachgehakt podcast (available in German only).
I'm excited to see what comes next and I'm looking forward to discovering new things. For the bank, our clients and for me as well. The future is exciting. And you're part of it!