October 2017
Coffee is second only to oil in the pecking order of most traded commodities, and coffee corporates need treasury systems equipped to deal with OTC derivative contract regulation, not to mention complex global supply chains. flow's Clarissa Dann reports on how Neumann Kaffee Gruppe rose to the challenge
Whenever I am in Germany, I head for the nearest coffee store to grab a 500g bag of Arabica beans, the like of which seems impossible to find in the UK at anything approaching as competitive a price.
But this particular trip in August 2017 was to Hamburg, whose 800-year-old port can accommodate the largest of container ships. Its 'gateway to the world' location connecting trade and transport has been attracting coffee traders, roasters and suppliers to the North German city for decades, establishing it as one of the coffee centres of the world. Some 750,000 metric tonnes of the commodity (green coffee) arrives at the port each year. And it just so happened that I was about to find out what was involved in getting that bag of coffee from the coffee plantations in Brazil into the shops and safely stashed in my carry-on luggage.
This article is a case study of how Neumann Kaffee Gruppe (NKG), a green coffee service provider that adds value by treating raw coffee beans to client specifications, metamorphosed from its humble broker beginnings in 1922 to its current position of processing approximately 10% of what makes up the 3.3 billion cups of coffee consumed each day around the world. A reflection of the success of the German economy itself, the group's reputation for quality and reliability is down to family management that builds for the next generation rather than today's profits.
One key to its evolution has been the efficiency of its corporate treasury function as supply chains have developed. "Our approach to servicing coffee customers – always eager to be a reliable and trusted business partner – is the same we use for treasury servicing NKG companies around the globe," declares corporate treasurer Heiko Steppack, whose transformation story became one of the highlights of Deutsche Bank's sixth client Global Transaction Banking Forums held in March 2017.
A visit to the group's headquarters and warehouse and logistics subsidiary NKG Kala demonstrated how this remarkable medium-sized, privately held family business, in the words of Managing Partner David M Neumann, "understands and serves the varied interests and possibilities of everyone involved in coffee."
Understanding the specific needs of a corporate in an ever-changing regulatory climate is a continuous learning process"
During the visit, we observed a 20-TEU container arriving on a lorry (they don't hang around at the ports, as nobody wants demurrage costs) with the coffee pouring onto the first collection point. NKG Kala Managing Director Sven Hähnsen's guided tour of the works demonstrated how the coffee's onward journey of checks, storing, cleaning, steaming, drying and blending brings with it the opportunity to differentiate in the market and add value to the process.
NKG prides itself on complete transparency with its customers so how, we asked, do they make a margin on what could be regarded as a standardised process? "You can get a quotation for coffee on the ICE exchange network, but when a customer wants to know what coffees need to be blended together to arrive at the same taste each time, this is the value we bring, along with other specialised services such as technical advice, bespoke packaging and delivery options," says Managing Director Peter Sielmann.
In Sielmann's view, businesses have to become more an adviser to their industries, and their customers do place a value on this – just as if they were hiring a consultant. This applies to banks as well and technology is a huge enabler. "Corporates will pay for advice on certain topics, for example on how to open a letter of credit on an online platform," he explains. And shipping companies, having refused to split bills of lading to differentiate between different bags of coffee 20 years ago, are now doing this digitally – along with the facility to collect all freight on a daily basis to an agreed quote.
In 2009, Neumann and Sielmann hired Steppack to enhance the corporate treasury function from what had been a transaction-based focus to a strategic one. Having started his career as a trading trainee in the banking sector, and then moving into risk management as the avalanche of bank regulation descended in the 1990s, Steppack joined the corporate sector to share his knowledge.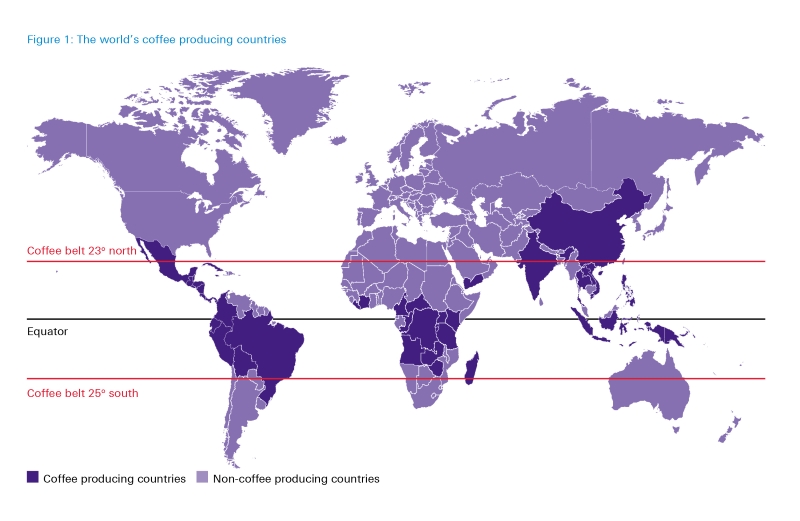 "Understanding the specific needs of a corporate in an ever-changing regulatory climate is a continuous learning process," he smiles. Past roles included heading corporate treasury for e-commerce company Otto Group, and roles at Jungheinrich, coffee roaster Tchibo and the former listed plastics group Balda. The latter stint "taught me how you have to act in a challenging environment where liquidity is crucial and [the] sun is no longer shining," he reflects. "In other words, dealing with restructuring rather than relationship management teams."
What keeps him awake at night these days? "Next to EMIR, FinfraG and MiFID II, more and more we have to consider the issue of cybersecurity, safeguarding our systems and enabling the companies we serve to manage these issues with good infrastructure and advice," notes Steppack.
The impact of regulation is, however, significant for a company whose single product is the most traded commodity on exchanges after crude oil. "Our operating companies have a strong coffee business and are not entirely thrilled about being faced with regulation issues. The big challenge of EMIR has passed them by, because we have arranged our infrastructure and workflow to help them cope." And EMIR readiness does not guarantee FinfraG readiness, even if the data repositories are the same.
In a group that has a flat, decentralised organisational structure, care is taken not to impose 'solutions' on the operating companies who need to own new ways of doing things. However, relationships with more than 50 banks around the globe, accompanied by more than 300 bank accounts, multiplies the complexity. "If colleagues in Mexico run relationships with six banks, this will end up in numerous accounts. A worst-case scenario is that six relationships are handled with six electronic banking systems running on three different browsers working with numerous logins, tokens/identifiers and passwords," says Steppack. The plan is to reduce complexity with the aim of defining one standard payment gateway and communicate via SWIFT with the banks. "This is a long journey, as you are challenging the relationships and revenue sources of the banks. But we are dedicated to decreasing standalone, local, electronic banking systems significantly. Streamlining of payment systems is key to safeguarding bank communications on a group level."
This is just one of the near-term standardisation and harmonisation objectives – others being to enhance business information technology-based reporting and to contribute to a programme of group-wide compliance delivery.
Steppack believes that a good network and channels for exchanging ideas inside and outside the business are vital for future-proofing the firm. His tried and tested tips for ongoing treasury success are:
Be passionate about your job and your company;
Get close to your CFO. That relationship, based on trust and respect, is vital as you will need budget support for the solutions you propose (the BellinLoadBalancedTreasury® system adopted in 20121 is one example of this in action);
Identify who is facing similar regulatory challenges and learn from them;
Be clear about the IT infrastructure mapping. This means making sure you have the right business partners and services that interact with your treasury management system, as all the data and management information fed in needs to connect onwards. There cannot be any standalones in the structure. And be open-minded about new technology and services, as reaction time to new issues is shrinking by the day; and
Ensure you communicate with other departments (eg accounting) so that you have a smooth interface with them and you are helping their workflows.
As we came to the end of our tour, we were treated by quality control expert Jens-Peter Lichtenberg to a coffee 'cupping'. Roasted coffee beans are ground and prepared for drinking, and tasters slurp the brown nectar without swallowing, discarding it into a spittoon. Coffee radar, treasury and risk radar – the passion for quality and customer all round lingered with us afterwards, rather like the faint aroma of steamed coffee beans in our hair.
The global coffee industry
In 2016, global coffee exports hit US$19bn at approximately 150 million 60kg bags – up from 80 million bags in 1980
Demand is inelastic and impervious to economic shocks and price
Grown in 60+ countries and consumed all over the world
Provides a living for 17 million farmers and 4.5 million workers in producing countries worldwide
3.3 billion cups consumed each day – one in 10 of these passes through NKG
In 2000, only 20% of all coffee was consumed in producing nations. By 2016 this had increased to 30% and producers were also becoming important consumers
Traditional tea-drinking nations were turning to coffee – significant growth potential linear of approximately 2% each year
Demand for sustainably produced coffee is growing
The two main species used in the coffee industry are Arabica and Robusta. Arabica beans are milder than Robusta and require more labour-intensive production because of their vulnerability to pests and diseases.2
While Brazil is the largest coffee producing country in the world, accounting for 35% of the global coffee production (mainly Arabica producing),
Vietnam is the second largest coffee producer, accounting for 17% of the global coffee production (mainly Robusta producing)
Source: Neumann Kaffee Gruppe