In response to feedback clients who prefer audio and visual content over reading, we are excited to introduce our Multimedia page. Our podcast series features analysts addressing the current issues driving the world of economics and finance and industry experts who share insights on corporate banking and innovative solutions. Join our hosts as we explore various topics and problem-solving approaches. Additionally, we present Trade Finance TV, a comprehensive programme presented by Deutsche Bank Editorial Director Clarissa Dann, and dbInSights videos exploring the economy and various market conditions throughout the world
Explore the future of the banking and financial industry
A small team around former securities trader Jürgen Schmitt is filming short videos about trends that could bring major changes to the world of banking


Watch videos

Watch videos
Our podcast series welcomes guests from all aspects of corporate banking to tell us more about how they are solving problems and finding solutions
Trade Finance TV, brought to you in association with Deutsche Bank's flow magazine, is a new TV channel dedicated to the world of global trade and how it is financed
Trade Finance TV

Watch videos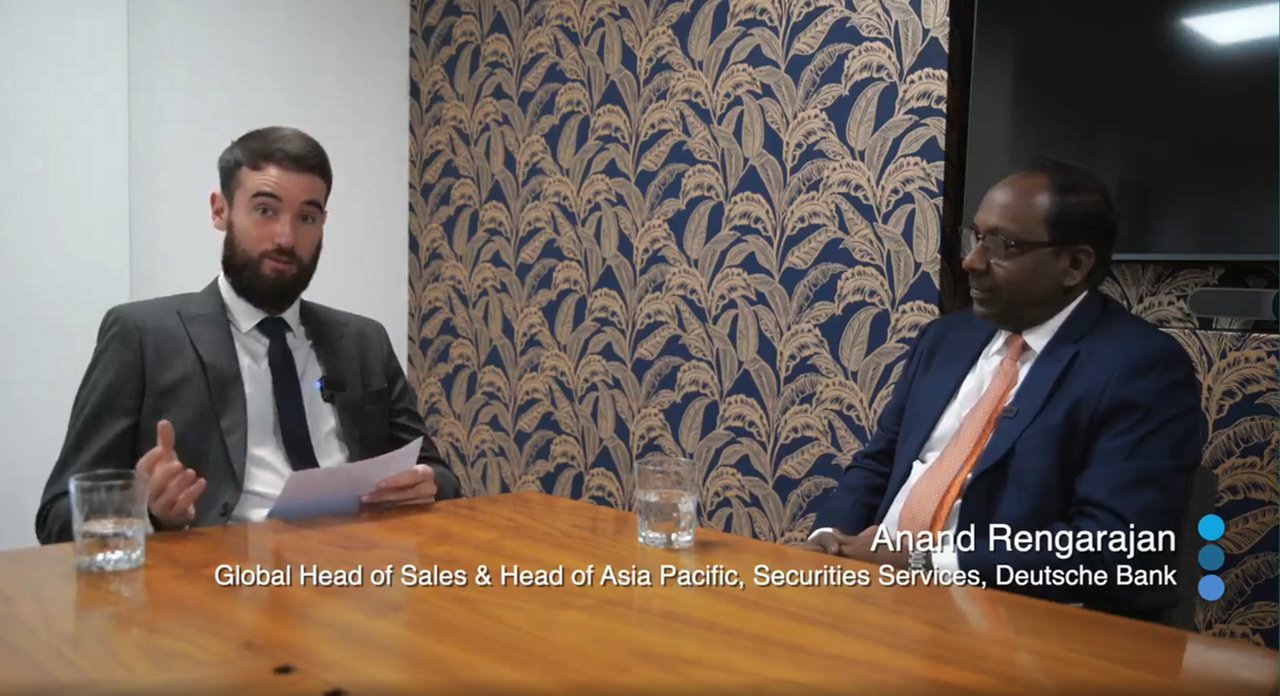 September 2023
Watch the concluding video of our Road to Sibos campaign in partnership with Global Custodian where Chris Lemmon talks to Anand Rengaragan, our Global Head of Sales and Head of Asia-Pacific, Securities Services on the development and growth in the Asian market. In this insightful discussion, Anand highlights 3 factors contributing to the growth in Asia: Firstly the stellar growth Assets Under Management in Asia fueled by growth of AIFs in India, family offices in Singapore and ETFs in China, Secondly rise of FinTech-led distribution in Asia and thirdly increasing demand for new services such as 365-day NAV by Asset Managers. He also shares his views on the state of innovation in Asia including T +1 and how Deutsche Bank leverages its 'people strength' to ensure consistency in the region with its culturally diverse and multi-regulatory landscape.
Road to Sibos video series: The Asia growth story

Watch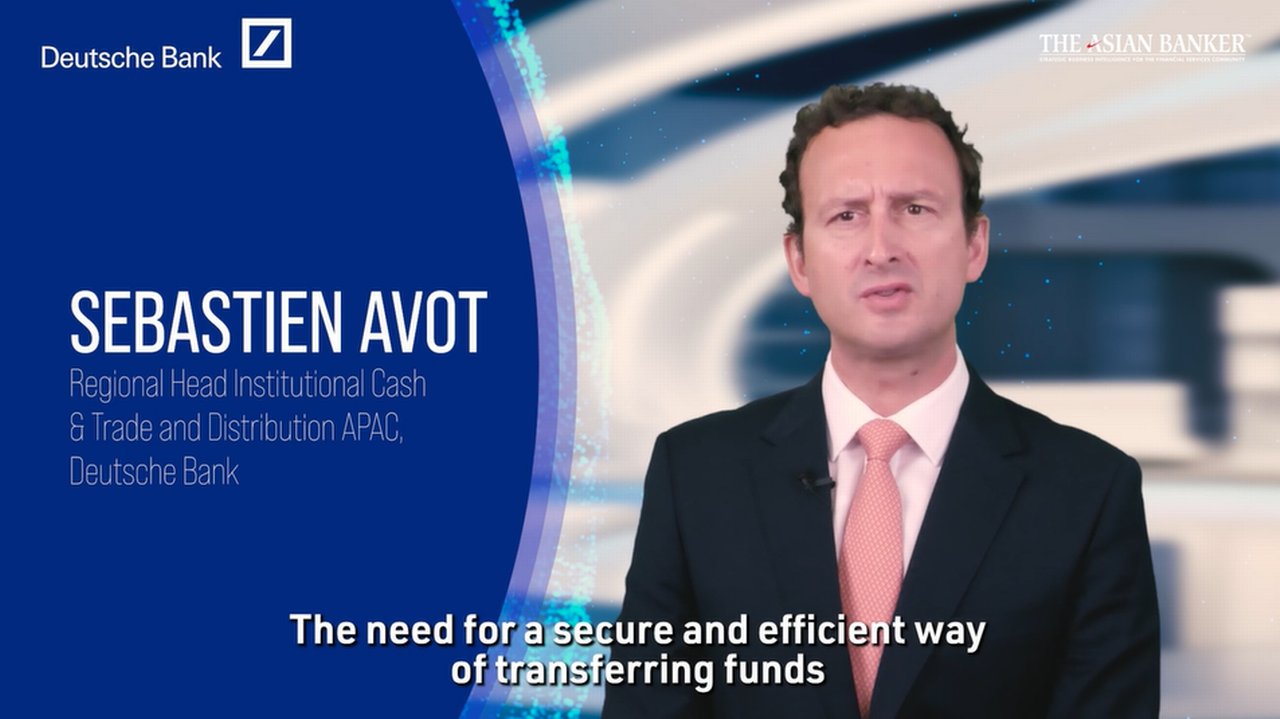 September 2023
With increased client focus on faster, cheaper and more transparent solutions of moving funds cross border, the developments around finding alternatives payment systems to #SWIFT are essentially targeted at solving for ease in terms of messaging system and clearing infrastructures. Watch our concluding video of our Road to Sibos campaign in partnership with The Asian Banker where Foo Boon Ping talks to Sebastien Avot, our Regional Head of Institutional Cash & Trade and Distribution APAC on the trends in global cross-border payments. In this insightful discussion, Seb identifies 4 pressing challenges in implementing #ISO20022 as a new payment messaging standard. These are resource allocation, time horizon for recouping investments, lack of harmonisation and consistency in data interpretation and lastly operational challenges. He also explains how Deutsche Bank is responding to these challenges by investing in the #CorrespondentBanking segment and engaging in industry and bank-led initiatives including the partnership with Google and Nvidia.
Road to Sibos video series: Global cross-border payments trends

Watch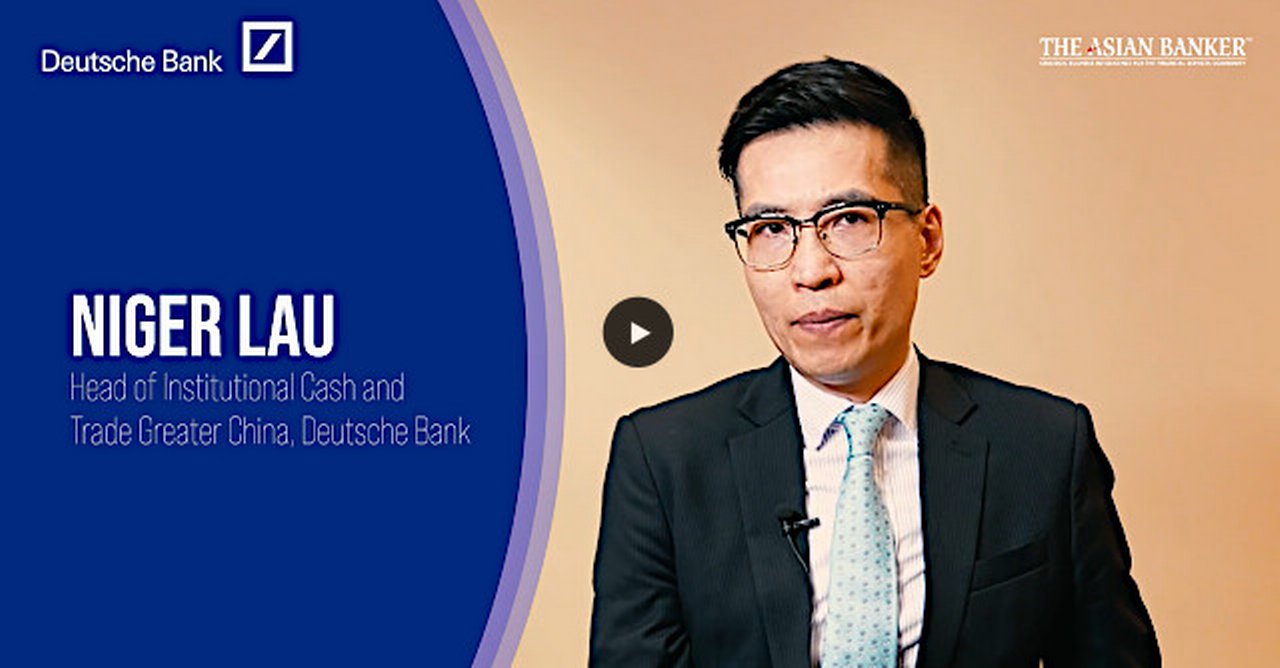 August 2023
What are the trends in correspondent banking in China? In our Road to Sibos campaign, we share insights on the correspondent banking in China. Our Head of Institutional Cash & Trade Greater China, Niger Lau observes the inbound flows on RMB volume grew by 40% and the value of payments grew by 34% in the last two years on the back on deepening on BRI and RCEP initiatives. He also underscores the importance of digitalisation and technology in correspondent banking and sheds light on our efforts around ISO20022 and collaboration with Google and Nvidia to drive innovation and foster speed, cost and transparency in cross-border transactions to meet our client's needs. Watch this exclusive video to find out more where Niger speaks to Foo Boon Ping from The Asian Banker.
Road to Sibos: Correspondent banking trends in greater China

Play