Globally at home

Trade finance
Moving goods and services across borders and within supply chains is highly complex and exposes counterparties to a wide range of risks – most particularly non-payment. Trade finance delivers fast, efficient, reliable and comprehensive solutions for every stage of a client's trade value chain to support their foreign and domestic trade activities
Passionate about leading Sustainability and Emerging Markets financing,excited to drive the innovation for Industry 4.0 via Asset-as-a-Service models

When carrying out cross-border business, importers and exporters are exposed to specific risks, such as exchange and currency risks, non-payment, damage to goods in transit and fraud, etc. Let our experts advise you on the best way of mitigating this
First assess your risk using the Figure 1 below as a guide. What jurisdiction and regulatory regime are you working in? Could there be a foreign exchange risk? Is there any political risk?
Figure 1: Trade risks to consider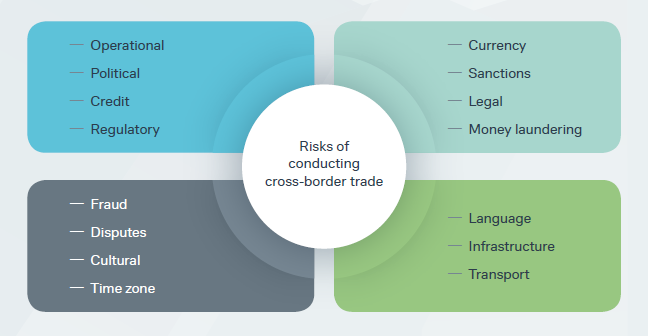 Then take a look at your own risk appetite when it comes to your transaction. Open account – with no form of trade finance is risky for the seller and has a very low risk to the buyer (apart from supply security). But payment in advance is of significant risk to the buyer and a low risk to the seller. Can trade finance help manage this?
What challenges in trade are you facing?
From arranging a letter of credit to unlocking export credit agency support we can help. Please select one or more options below by clicking in the boxes
Letters of credit, documentary collections and guarantees
Securing supply chains and paying suppliers
Accessing export credit agency support
Financing commodities and natural resources
A new SWIFT message gateway we offer to our financial institutions clients communicating with us by SWIFT
TF Message Hub

More
Global solutions for your specific needs
Our range of solutions seamlessly covers classic trade flow products and services such as letters of credit and guarantees; all aspects of export finance, commodities finance, as well as securing supply chains with intuitive supply chain finance solutions. Our team advise on counterparty and country risk, local regulatory regimes and work with other financial institutions to share trade finance risk when required
Explore the world of trade