Global Treasury Leadership
Corporate treasurers hold the key to an enterprise's liquidity, risk management and compliance, and having their fingers on the pulse and lifeblood flow of cash can make or break an organisation
But they cannot work in isolation from the wider enterprise. The cash implications of granting payment terms or agreeing a deal in a specific currency have to be fully understood all round. In other words, by having robust processes and leveraging new technologies to provide more automation opportunities, corporate treasurers are stepping up to the plate and delivering enhanced value and efficiency, as shown by ongoing industry research (Euromoney, Economist Intelligence Unit).
As part of our ongoing activities in support of our global treasury clients, Deutsche Bank is working closely with the Economist and Eurofinance on a number of events and activities in 2018 and beyond. These explore how regulatory, technological and political changes are reshaping treasuries and treasury careers in the face of ongoing external environment and organizational disruption.
This includes a dedicated Global Treasury Leaders community group within the Eurofinance Corporate Treasury Network (ECTN), that hosts exclusive conversations and webinars on a range of interesting topics affecting global treasury, and we will also share insights from the annual Economist Intelligence Unit treasury survey.
Deutsche Bank is also supporting the Economist Global Treasury Leaders Summits that bring together a select group of senior treasurers from global organisations to share insights into the challenging macro-economic environment through a combination of leading-edge sessions and high-level networking. Read below to find out more about the latest events, and for information on the next events in the series, visit the Economist website here.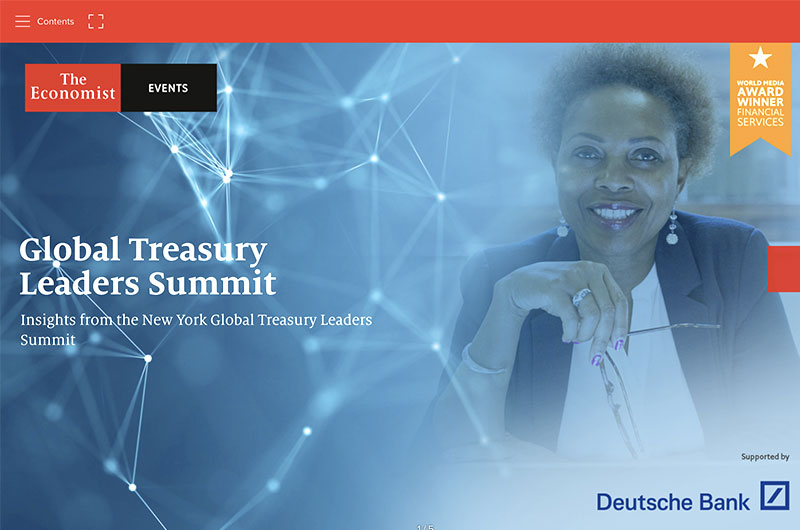 To be kept up-to-date with further information on this range of activities, please contact gtb.marketing@db.com
To read the review of the events, and see the video highlights, click on the tabs below.